Scholarships/Competitions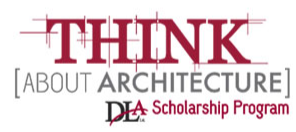 The DLA Architects, L
td. THINK [
ABOUT ARCHITECTURE] is an
opportunity
for talented graduating students to demonstrate the role that architecture plays in their lives. The specific purpose of the scholarship is:
to promote an understanding of the built environment and how people interact with it, especially schools;
to foster a genuine interest in the societal value of architecture as an art form and an enhancement to the general quality of life; and
to encourage high school students to pursue higher education, especially in architecture.
The Illinois Drafting Educators Association is an Illinois not-for-profit professional education organization with a mission of advancing the drafting occupation through better education. This association, founded in 1957, is the only one of its kind in the nation. Faculty who run and participate in this organization do so without pay on a volunteer basis out of dedication to their students and a love for their occupational field. The IDEA Regional & State competitions allow students to compete among other students in various areas such as 2D & 3D Mechanical and Architectural Drafting/Design.
3D CAD Modeling

Student

Year

Adam H. *(2)

2017

Colton S. *(2)

2014

Wesley Z. *(2)

2011

Jeff P. *(1)

2009

Jerry C. *(2)

2005

Architectural 3D Modeling
Student
Year

Jeremy G. *(1) **(3)

2012

Jeremy G. *(1)

2011

Architectural Board
Student
Division

David H. *(2)

2017

Introductory Board
Student
Year

David H. *(2)

2015

Brent R. *(1)

2010

Vanessa J. *(2)

2004

Introductory CAD
Student
Year

Jesse A. *(2)

2012

Wesley Z. *(2)

2011

Jeremy G. *(1)

2010

Wesley Z. *(1)

2009

Jeff P. *(2)

2006

Justin M. *(1)

2005

Machine CAD
Student
Year

Jasmin S. *(3)

2018

Benjamin M. *(2)

2011

Wesley Z. *(2)

2010

Jeff P. *(1)

2009

Jeff P. *(3)

2008

Justin M *(2)

2007

Vanessa J. *(3)

2005

*(Place) - Regional Finish & State Qualifier **(Place) - State Finish
The challenge allows students from within the MACS region to compete in various events in all areas of Technology. The focus for our students is in the area of Mechanical Engineering Drafting/Design.
Mechanical Drafting - AutoCAD

Student

Year

Nate B. (3rd Place)

2017

Matt L. (2nd Place)

2016

Colton S. (1st Place)

2015

Frank W. (3rd Place)

2015
The purpose of creating the Southworks Engineering and Robotics Competition is to provide an opportunity for local and regional manufacturing companies to sponsor and partner with local high schools to develop their individual projects. Thru these projects it details the program awareness within the south suburbs, creates a link between industry and school and helps to promote career readiness and exposure.
Sumo Survivor

Student Team

Year

David H. Peter F. Tyler K. Dan T. & Milton V.

2017